Forbes Ad Free Experience in the News
A rundown of a few memorable tweets and press coverage from our Forbes Ad Free Experience Launch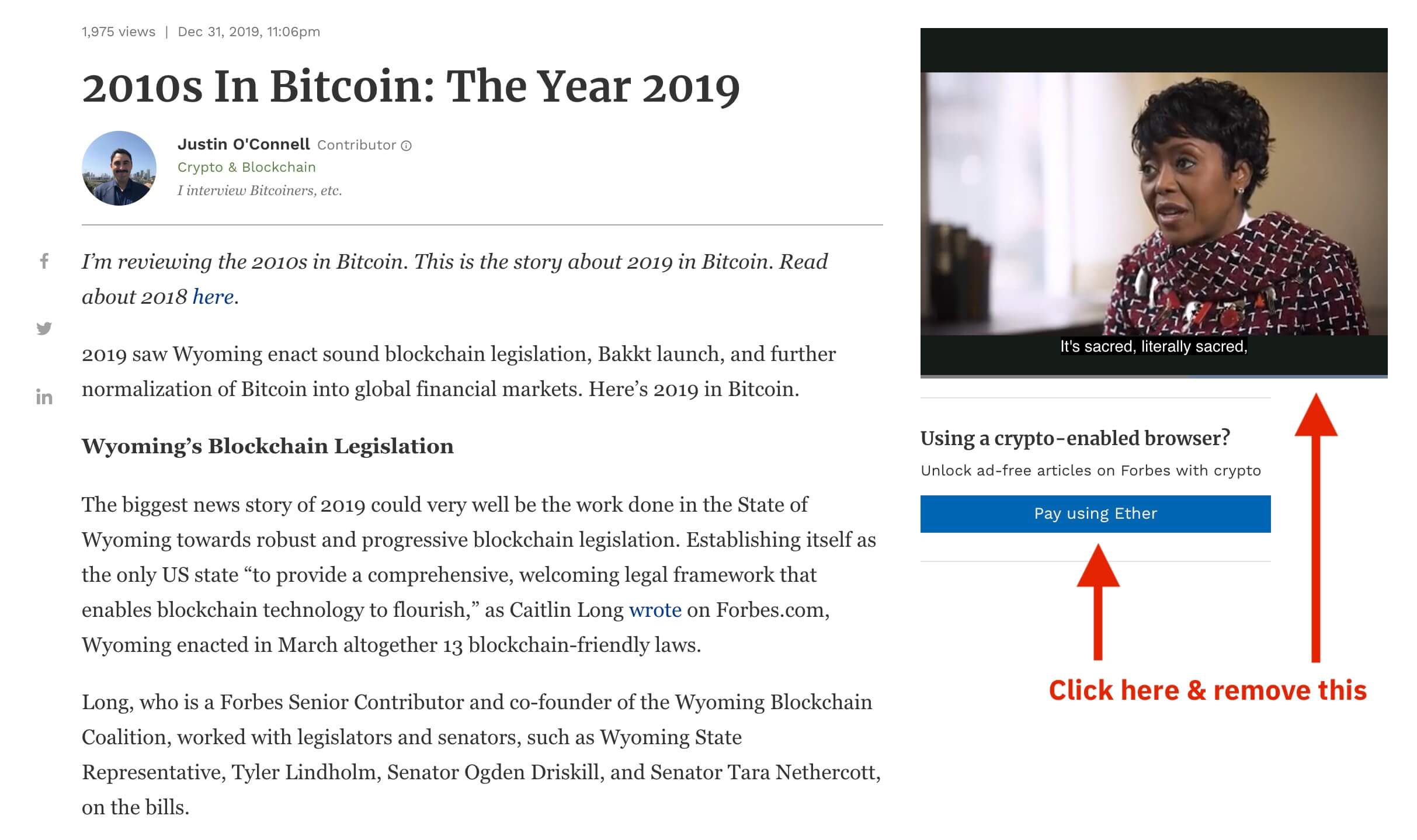 A few weeks ago we launched a new feature together with Forbes – an Ad Free Experience. Readers can now remove all ads on Forbes by purchasing a key for 0.0052 ETH a day (there's also a monthly option).
Not only were we happy but the internet rejoiced! Many felt that the ad free feature was a great use case for the blockchain. We collected a couple of tweets and press on what people had to say.
A big step for crypto today:

🔒@UnlockProtocol is now live on @Forbes in the crypto section. Check it out and try it!https://t.co/8uLWDRTlRr pic.twitter.com/NNuxHjSbJN

— Peter (@pet3rpan_) December 17, 2019
.@UnlockProtocol has been at the forefront for creating new membership-driven monetization for the Web - and we're stoked to see this partnership with @Forbes to drive more adoption for the #Web3 ecosystem. https://t.co/9mbEVdZAsB pic.twitter.com/I0IU9UyXLl

— ConsenSys (@ConsenSys) December 19, 2019
Congratulations to @Forbes with the new ads-free, crypto-powered user experience powered by our partner @UnlockProtocol. The future of web monetization is here. Best experience of course with the @opera browser!https://t.co/m68DViif38

— Opera (@opera) December 18, 2019
A wonderful crypto use case:

It is well known that @Forbes has the worst ad situation in online publishing, bordering on unreadable.

Now, if you go to their @ForbesCrypto section and pay a small amount of ETH using @UnlockProtocol, it eliminates ads on the *entire* site.

A+

— Mike Dudas (@mdudas) January 1, 2020
Hi, Julien & team — congrats on Forbes. Let's talk again.

— BrendanEich (@BrendanEich) December 18, 2019
This is a big deal - you can now by a @Forbes subscription with crypto courtesy of @UnlockProtocol. Can't wait to see what @julien51 & team have up their sleeve next. https://t.co/LOLRRa164w

— Megan Knab (@knotmegan) December 17, 2019
This is one of those small step, giant leap moments - @UnlockProtocol has been hard at work on creating the future of composable memberships and it's great to see @Forbes take this step towards fixing the ad-driven economies! So stoked for this!! https://t.co/oLPppWBBPd

— praneeth_s (@bees_neeth) December 18, 2019
The last week in crypto:

-@MakerDAO raises $27.5mil from @dragonfly_cap and @paradigm 💰
-@gitcoin grants round 4 announced 💸
-@TXRXResearch team announced 🤓
-@TornadoCash v2 now live 🌪️
-@Forbes integrates @UnlockProtocol 🔐

Much more 👇https://t.co/a1tMR4ONhU

— Anthony Sassano | sassal.eth (@sassal0x) December 23, 2019
If you want to read up more about it check out our blog post and the following press.
cryptonews.net, cryptomode.com, ethhub.substack.com, weekinethereumnews.com, forbes.com, tokenhell.com, coinfomania.com, coinspeaker.com, steemleo.com and we even got written up in China on chainnews.com.